From April, 2013 through July, 2017, our property was managed by Last Key Realty with our property name being "Caribbean Fling @ Southard".
During our time with Last Key Realty, we received thirteen (13) 5-star Reviews for Caribbean Fling @ Southard.
In 2019 with the new property manager, Vacation Homes of Key West, our property name has changed to "Key West Island Village Cottage".  The new name currently has no reviews, but it is the same property with many upgrades made since our first renter in 2013.
Additional reviews will post whenever available.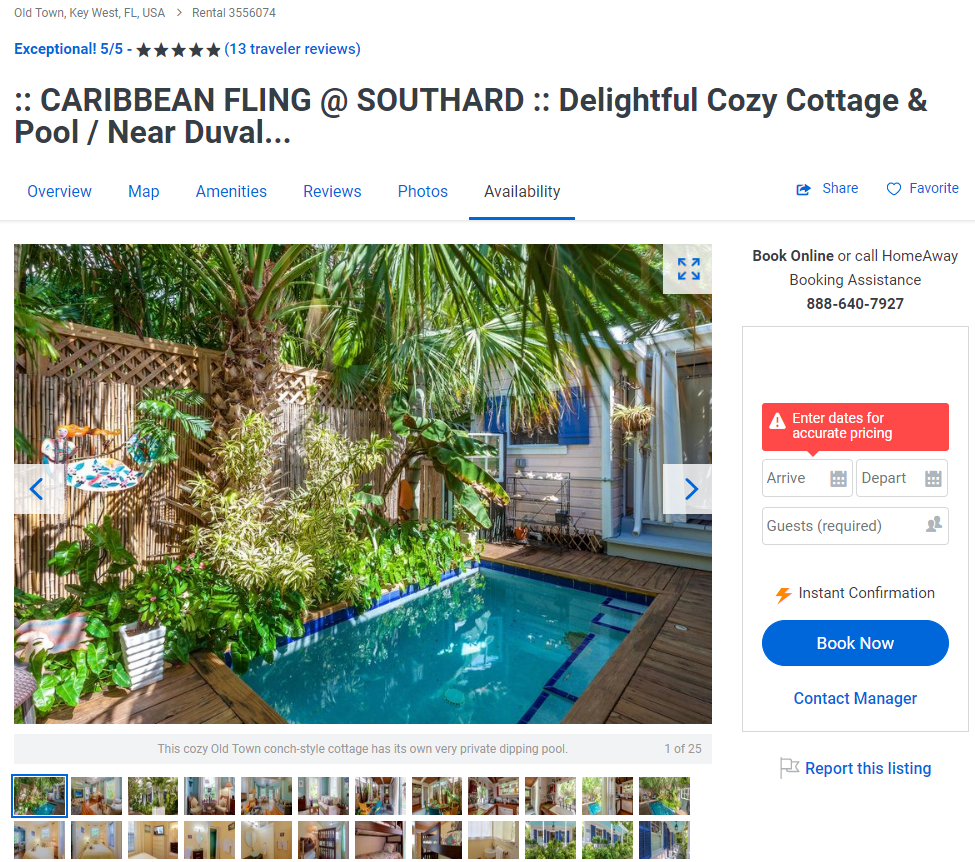 Caribbean Fling

We had the pleasure of staying at the Caribbean Fling while in Key West. This little conch house was very unique and cozy. The front porch was enjoyable to sit out in the morning while enjoying a cup of coffee or evening whatever you prefer. The pool and garden area was very relaxing to take a break in the afternoon after going to the beach or when you come back after a late evening. The cottage was close to Duval Street which was a short and enjoyable walk to all the sights, bars and restaurants on Duval Street. The living area and bedroom was cozy and offers up to date amenities. Believe it or not but I enjoyed the outdoor shower, don't worry it's totally private. We will definitely stay at this conch house when we return to Key West.
Caribbean Fling @ Southard

This Island Cottage was absolutely a "home away from home".  From the great front porch to sit on and watch the people go by to the wonderful private pool with palm trees blowing and the fun outside "kitchen" and deck and talk about convenient, you are just 10 minutes away from "Duval Street." This was our first trip to Key West and definitely not our last.  Staying in this great tropical island home was so relaxing and peaceful and we are looking forward to staying here again really soon. We totally recommend this "Island Getaway"!!
LOVELY AND CONVENIENT LOCATION

LOVED THIS WONDERFUL COTTAGE FOR OUR TIME IN KEY WEST. THE HEATED, PRIVATE SPLASH POOL WAS GREAT, THE HOUSE WAS NICELY DECORATED, COMFORTABLE, AND HAD EVERYTHING NEEDED TO FEEL RIGHT AT HOME. LOCATION WAS QUIET AND WITHIN WALKING DISTANCE TO MANY OF THE ATTRACTIONS.
A wonderful property

Not a large house, but beautifully appointed with every amenity and close to all the activities Key West has to offer.
We love this Conch Cottage!

Everything was just as advertised online and even better in person. A tropical paradise with lush plant life and it's just the right size. It has first-rate interior decoration, nice beds, great wireless, big TV's with DVD players and comfortable living room furniture.  Everything is readily available and the kitchen has all the amenities of home. The washer and dryer facilities were a welcomed surprise. We loved the open dining area and had breakfast there every morning. The heated pool was wonderful and well cared for. The outdoor shower was a new and pleasant experience. The neighborhood is quiet and quite charming. Our favorite thing was relaxing on the front porch and watching the bicycles and pedestrians go by. The cottage was very clean and tidy, well maintained and secure. I was impressed that it had plenty of paper towels, toilet paper, dish soap, laundry detergent and even beach towels. That was a nice touch. It's just a couple of blocks to Duval Street and all the shops, great restaurants, nightlife, music and more.  We enjoyed eating at the Lazy Gecko and listening to music at Schooner Wharf Bar and many others. It was a short stroll to The Ernest Hemingway Home and Museum, Mallory Square and other attractions worth seeing. Loved this cottage! Was clean and well maintained, had everything we could have asked for. We would highly recommend the Caribbean Fling @ Southard Conch Cottage to family and friends and anyone wanting to vacation in Key West.
A PERECT CARIBBEAN FLING!

We have been to Key West many times, but staying in this delightful conch cottage, so convenient to everything, made this visit a perfect experience. The house was immaculate, comfortable, very private, and had all the amenities needed to make you feel at home. The tropical setting for meals alfresco and a dip in the heated plunge pool added to the quiet island atmosphere. Even though it is a short walk to Duval and Old Towne, we rented bicycles that were delivered to the front door and safely stored them behind a locked privacy gate. Key West is very bicycle friendly. Within a few blocks on Southard is "5 Brothers" corner market, where locals get their morning cuban coffee, pastry, and sandwiches to-go. Two blocks away is "Mangia Mangia" pasta cafe, a great place for dinner. Or if you prefer, the kitchen had everything needed to prepare breakfast, lunch, or a gourmet meal. The shaded front porch was perfect for relaxing and watching people stroll by or gazing at a full moon. The agent who met us with the keys was very helpful and there was furnished information about what to see and do and maps to help you get around. Attention to details and maintenance were clearly evident. We would highly recommend this property for a romantic getaway, a family vacation, or a group of friends. Can't wait to stay here again.
A Great Place To Vacation!

My husband and I really enjoyed our visit to Old Town Key West and especially our stay at "Caribbean Fling". Our lovely island home was everything the listing pictures and description said it was and more!  We were pleasantly surprised by the "homey" atmosphere which included the many pictures, books, and information about the house and community itself. The many other personal items made it a step above your average rental vacation home. It is centrally located, making all activities, attractions. and restaurants easily within walking distance. We truly enjoyed the quiet privacy of relaxing by the pool and looked forward to many enjoyable evening strolls around the pristine neighborhood. Caryne, the property manager, was both extremely helpful and accessible. We hope to go back to this Caribbean Paradise again soon and will definitely stay at 707 Southard Street.
Great property close to all the action

We had a wonderful time in Key West and plan to come again. Dennis the property manager was very helpful and provided outstanding service.
Wonderful vacation at Caribbean Fling @ Southard

My wife and I arrived at the Caribbean Fling on an extremely warm day and were in the pool within minutes, such a great way to cool off. The atmosphere of the cottage was great. We wanted to have a quite vacation and the Fling give us these opportunities. We were able to enjoy the outdoors, the pool and have a meal in the midst of palm trees and beautiful flowers. The multitude of options within the Fling, was wonderful TV, music and many books to read. We enjoyed the front porch watching and talking to folks with the many modes of travel. We were impressed with the tour of Old Town on the train; love the Engineer Tour Guide, and all the History he spoke of. Many shops and restaurants were within walking distance, the walk down Duval Street is a once in a lifetime experience. We decide to try the Jet-Ski for the 27 mile guided tour around the Key West Island, it was beautiful. What a delightful and comfortable place that we hope to return.
Quaint and Convenient

The property is comfortable and in an excellent location. Dennis Bentley was very helpful and responsive whenever I had questions.
A Dream Vacation

The arrival to this property was our first visit to Key West. We were thrilled. The house was clean and in good repair. We loved the pool and the privacy of the whole setting. The house was close to dining and the happenings of Duval Street. We were able to rent two bicycles and relive childhood emotions by biking to the ocean/beach and visit all of the area. Our only complaint was that our vacation was too short. There were so many other things to do, restaurants to visit and shops to browse in. I'd be happy to go back and recommend this property to my relatives and friends. Elkins, WV
Great location, close to everything, relaxing

Our typical day was coffee, breakfast and a soak in the pool/warm tub and then on to see the sites for the day, enjoying the warmer, breezy days shopping, seeing the history of Key West. Attended 3 theatre shows while there for the month, one at the Fringe Theatre, Waterfront Theatre and one at the Aqua Lounge. Enjoyed all of them. Another treat was music at most restaurants/bars, not only on Duval St, but in all areas of Key West. Also enjoyed regular movies at the Tropic Theatre and the Regal Cinema. Went on a beautiful sunset cruise, Hemingway House, the Aquarium, Mallory Square, Southernmost Point and all the different memorials. Too many to list, but our favorite restaurants/bars were Chicago on Greene for the jazz and Irish Kevin's for the entertainment. The Caribbean Fling rental was very nice to come back to for a break in the afternoon and not have to go out all the time. We walked or biked everywhere. A car definitely would be a nuisance due to parking costs and availability. Will plan a visit back in the future!!
The Key West Vacation Home with Everything

We just returned from Key West and a stay at the Caribbean Fling located at 707 Southard.  This house had everything we wanted in a vacation home and more.  It was located in close proximity to all of the action, but far enough away from the hustle and bustle if you just wanted to chill at the house.  We parked the car and walked to the grocery store two blocks away.  We were also only two blocks away from Duval Street.  We enjoyed sitting on the front porch with our dog (the house is pet friendly) and watching people walk by.  Everyone was so friendly.  After a long day of relaxing, we slept on the sleeper sofa.  It was so comfortable, I am looking for one like it at my home (easy to pull out and put back for daytime use).  The house was very clean and well maintained.  The kitchen was well equipped and right next to the outdoor dining area.  We also used the grill by the pool.  The pool was like our private oasis complete with chairs and plants around the deck.  My favorite thing about this house was the outdoor shower.  My husband and I both thought this was a wonderful feature.  (By the way, we are in our sixties.)  We would recommend this house to anyone traveling to Key West.  We stayed with another couple and there was room for two more.  We can't wait to return to Caribbean Fling and experience all that this house has to offer.